Panduan cara install LiteSpeed Web Server Enterprise di Linux Debian/Ubuntu/CentOS. LiteSpeed Enterprise gratis -sejak Agustus 2018- untuk paket Free Starter dengan spesifikasi sebagai berikut:
1 Domain
10 Sub-domain
1 Worker
2GB Memory (RAM) (maksimal)
LSCache
Jadi silahkan daftar dan order gratis untuk mendapatkan lisensinya. Sebelum ke tahap install, karena ini postingan perdana tentang LiteSpeed ada baiknya sebagai informasi pelengkap dan agar tidak lupa, saya catat minimal sistem yang dibutuhkan untuk operasional LiteSpeed, yaitu:
Persyaratan sistem minimum
Operasi sistem:
Linux(i386): kernel 2.4 dan lebih tinggi, glibc-2.2 dan lebih tinggi
CentOS: 5 dan lebih tinggi
Ubuntu: 8.04 dan lebih tinggi
Debian: 4 dan lebih tinggi
Solaris(x86): Sun0S 5.8 dan lebih tinggi
FreeBSD(i386): 4.5 dan lebih tinggi
MacOSX: 10.3 dan lebih tinggi
CPU:
Intel: 80486 dan lebih tinggi
PowerPC: PowerPC G4
Memory: 32MB and up
Disk:
Installation: 200MB
Runtime: 300MB dan lebih tinggi, ruang swapping tergantung pada penggunaan
Instalasi LiteSpeed
Login ke server melalui SSH sebagai root, dan ikuti langkah-langkah install LiteSpeed tanpa control panel hosting pada Linux CentOS 7, Ubuntu dan Debian 9 Stretch berikut:
Install cURL untuk Debian
echo 'deb http://ftp.debian.org/debian stretch-backports main' | tee -a /etc/apt/sources.list && apt update -y && apt install curl
Install cURL untuk Ubuntu
apt-get install curl
Install cURL untuk CentOS
yum install curl
Instal LiteSpeed
Perintah install LiteSpeed bash <( curl https://get.litespeed.sh ) nomor_serialnya, contoh:
bash <( curl https://get.litespeed.sh ) 

RBm5-Idne-tteR-cOm
1. Membaca Perjanjian Lisensi Pengguna Akhir
Anda bisa membaca sampai habis End User License Agreement, atau langsung menekan tombol Q pada keybord untuk menyudahainya, ketik Yes kemudian Enter
Do you agree with above license? 

Yes
2. Menentukan direktori instalasi LiteSpeed
Destination [/usr/local/lsws]: 

Enter
3. Membuat user Administrator
User name [admin]: 

idnetter
4. Mengatur password untuk user Admin
Password: 

Ketik password baru


Retype password: 

Ulangi password
6. Konfirmasi Email
Email addresses [[email protected]]: [email protected]
7. Memilih hosting control panel
Ada pilihan cPanel, Plesk dan lain-lain, karena ini tutorial tanpa panel pilih 0 - NONE
Will you use LiteSpeed Web Server with a hosting control panel?
Please select (0-7) [0]? 

0
8. Memilih user dan group untuk web server
User [nobody]: Enter
Group [nogroup]: Enter
9. Mententukan Port untuk web
Karena tidak ada aplikasi web server selain LiteSpeed di server maka atur sebagai default ke port 80 agar bisa diakses publik
HTTP port [8088]: 80
10. Mengatur Port untuk halaman Administrator LiteSpeed
Admin HTTP port [7080]: 

ENTER
11. Install PHP
Setup up PHP [Y/n]: 

Y


Suffix for PHP script(comma separated list) [php]: 

Enter
12. Pilihan fitur chroot
Ketik N dan tekan Enter
Enable chroot [y/N]: 

N
13. Pilihan lain-lain
Would you like to install AWStats Add-on module [y/N]? 

N


Would you like to have LiteSpeed Web Server started automatically when the server restarts [Y/n]? 

Y


Would you like to start it right now [Y/n]? 

Y
Setelah selesai dan berhasil
LiteSpeed Web Server started successfully! Have fun!
Selanjutnya Anda bisa membuat virtualHost melalui WebAdmin interface LiteSpeed.
https://178.128.53.113:7080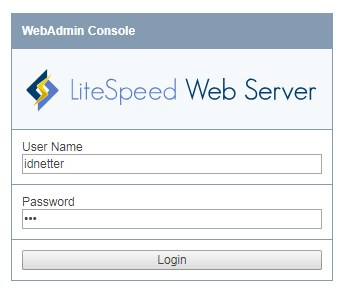 Screenshot login LiteSpeed WebAdmin Console